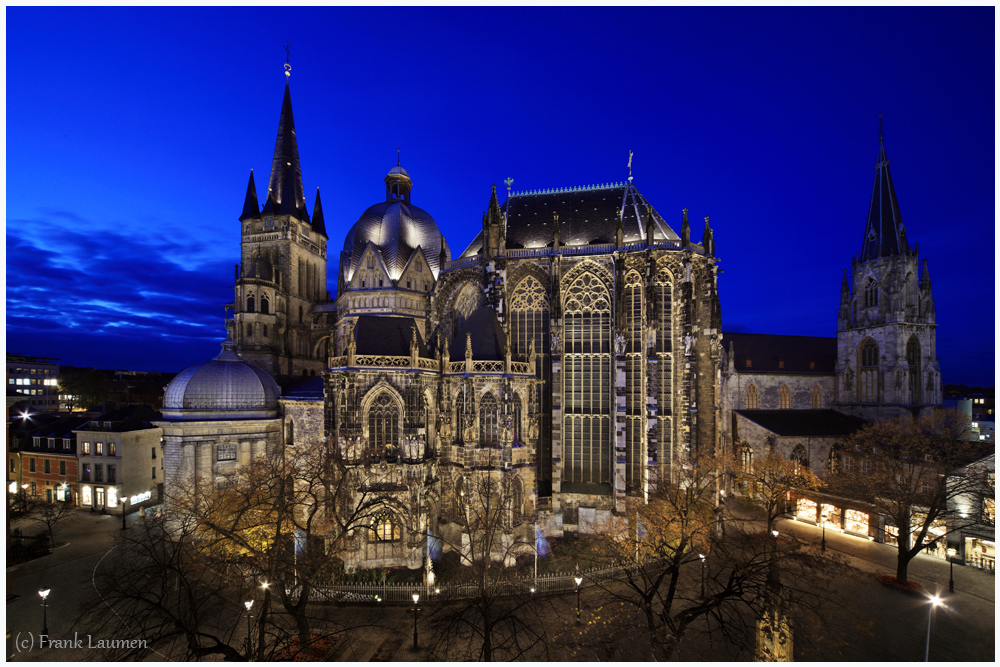 Image by Frank Laumen (http://www.fotocommunity.de/fotograf/frank-laumen/424526)
My hometown, the westernmost city in Germany, offers quite a bit of coffee culture. Some of it is widely known, some well hidden. This guide offers a completely subjective overview. Let's get started !
---
Overall Rating: ☆☆☆☆☆
"Italian specialities" in this case do not include coffee.
Overall Rating: ★★★★★
Great coffee with custom blends from Maqii and Quijote. You have to catch their lovely trailer at the market, but it's definitely worth it. They offer selfmade cake, quiche and sometimes soup. The baristas are skilled and very friendly and the atmosphere is always nice.
The coffee packs a punch with a nice crema and a strong body. Almost every speciality is available and I have yet to find a drink they could not prepare, no matter how exotic my order. If you happen to stumble upon them make sure to stay for a while !
Overall Rating: ★★☆☆☆
Rather inconsistent, but more often than not it's good. If the owner is pouring the shots the coffee is enjoyable though nothing special. The bagels are great, albeit rather pricey.
Overall Rating: ☆☆☆☆☆
While the food was okay the espresso was terrible. It might be "real italian" (supermarket) coffee, but extraction time was way off, it was super sour and for a rather high price you aren't even offered a glass of water. This is not a place for coffee.
Overall Rating:
I have not been there yet, but it's supposed to offer competitive prices and solid triple-shots.
Overall Rating: ★★★★☆
With hundreds of students longing for their coffein every day the baristas at Coffeelution manage a superb consistency in their work. The coffee is super cheap and a lot a varieties are offered as well. During study breaks there is always a line, but with the right timing you can catch a great chat with the baristas and enjoy the crammed, yet cozy, atmosphere.
Overall Rating:
While I have not yet been there in person I've been told coffee is okay and they apparently sell beans too.
Overall Rating: ★★☆☆☆ (★★★★★)
Initially a favorite of mine, this cafè did not stand the test of time. They still serve good coffee, but rather inconsistent and you rarely find a truely great barista at the machine. With the increasing popularity of this cafè with local spa guests the service and coffee quality dropped. It's still a decent place. The design is lovely and the food is good too, but I've increasingly experienced bad coffee, unfriendly staff and inconsistent roasts.
Overall Rating: ★★★☆☆ (★★★★★)
Lulu's serves all of the well established coffee specialties and uses beans from Maqii, as well as Schamong from Cologne. The blends are business secret but should be available for purchase once everything settled in can be bought right at the store. A unique design and a solid location are already a great start - but a couple of features really set this bar aside.
First of all the Pop Up Store concept allows artists to showcase and sell their work. Furthermore there are more and more (for now mostly private) events after closing time. This has great potential and opens up a lot of opportunities.
Best for last: Rather than opening Just Another Coffeebar ™ Lulu's aims to bring a "Coffee Revolution" to Aachen, declaring war on the dusty Coffee-Blues that has been riddling Aachen for quite some time.
By now, roughly a year after the initial impact Lulu's settled for less exotic roasts and offers your typical dark roast. While it's not bad café they lost their sharp edge (sweet third wave beans). They are a bit pricey, but a stamp-card system compensates for that, if you visit often enough.
Maqii (Revaluation Pending)
Overall Rating: ★★☆☆☆
Roastery and small cafè. The coffee is solid, but it's a very dark roasts and on the more pricey side. If the owner got out of bed on the wrong side he's pretty moody. Be warned. Furthermore I've heard that recently quality of the beans has dropped as well.
Overall Rating: ★☆☆☆☆
One of the most well-known roasteries in Aachen: Plums has been there pretty much forever, and most of the bakeries and newsstands have adopted to this. You can get a Plums coffee almost everywhere in town. This comes at a cost: often the coffee you get is burned and old. While the beans are in general easy to handle, one of the sole places I've found to get a Plums' right is AIXPresso in Aquis Plaza.
I worked my way through a few batches of these beans and used them in almost every possible way. Neither French Press, Espresso, Cappuccino nor Drip Coffee sparked my interest. Some of their darker filter-blends work great for Cold Brew, but overall I'd say: Check out some other places before you spent money on "Germanies oldest".
Will be rated soon.